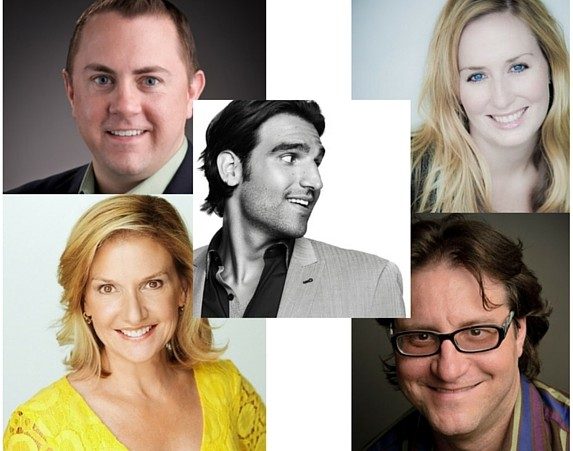 It's been a busy year at "From Founder To CEO." And, we have lots of exciting things in store for you in 2016.
In the meantime, I thought you might find it interesting to take a look back at the TOP 5 MOST DOWNLOADED podcast episodes of 2015 and why I think they were so popular.
#5 – Nathan Pettyjohn, Founder & CEO – Aisle411
003: What to do if your company has CRAZY fast growth?
I recently reconnected with Nathan again. His company continues to grow, fast. And, you get a glimpse of the reasons why in his podcast interview. He is smart, insightful, and has just the right amount of humility and hunger to effectively lead a fast growth company. And, he is a super nice guy.
Many of you LOVE stories of fast growth companies. And, I suspect that is why this episode was and continues to be so popular.
#4 – Chelsea Berler, Founder & CEO – Solamar
001: Chelsea Berler's Journey from Food Stamps to Founder to CEO
Chelsea is just an incredible person. She was our very first guest and she delivered. Her amazing insights helped so many of you realize that the journey from Founder to CEO is not only worth it, but that you can achieve so much success even before your 30th birthday…just like her.
I know why her podcast episode was so popular. She's the real deal. She triumphed through hardships, just like many of you. And, her sunny personality continues to be a shining example to so many.
#3 – Brad Feld, Managing Director – Foundry Group
046: Brad Feld on Founding CEO Struggles, Trust, & Delegation
Brad is really a rock star in the startup world. He has been an early stage investor and entrepreneur since 1987. Prior to co-founding Foundry Group, he co-founded Mobius Venture Capital and, prior to that, founded Intensity Ventures. And, he is also a co-founder of the wildly successful Techstars.
So, when Brad agreed to be a guest on the podcast, I was super excited. Apparently you were excited too because his interview was the third most downloaded podcast episode.
My guess is that Brad's straight talking, hard hitting, tell-it-like-it-is persona was very helpful to many of you. If you haven't had a chance to listen, I highly recommend you do so.
#2 – Kim Nelson, Founder & CEO – Daisy Cakes
072: Shark Tank Alum Builds Cake Empire By Taking Care Of Her Team
Shark Tank Alum, Kim Nelson, secured a big investment from Barbara Corcoran and went
on to build a cake empire – over $3 million in cake sales (probably more by now).
Her incredibly optimistic, enthusiastic, southern charm won over hundreds of you when you listened to her interview. She made me smile during the entire time we talked. If you are at one of the many low spots (that we all experience) on your journey from Founder to CEO, just listen to this interview and you'll be back on top of the world again.
#1 – Jamal Motlagh, CEO & Co-founder – Acustom Apparel
018: How to use New Technology in a Traditional Industry
So, what do you get when you mash up leading edge 3D body scanning technology, custom menswear, superior service, and a 6'3" former water polo playing Harvard MBA grad – well, you get a Founder & CEO named Jamal Motlagh who is looking to change the way men buy clothes.
And, THOUSANDS of you listened to his interview.
I think Jamal was the most popular podcast episode for two reasons. First, he is innovating in an industry that hasn't changed much. Two, he is a very down-to-earth guy who works hard and isn't afraid to share his lessons learned.
Summary
In summary, I think these five episodes have some common characteristics. Each leader combines realistic appraisals of their businesses with a sunny, optimistic disposition and a humbleness that grounds them to continued hard work and determination…in my opinion, the secret recipe for a successful transition from Founder to CEO.
What do you think?
Why do you think these 5 Founding CEOs were so popular?