Podcast: Play in new window | Download
Subscribe: RSS
No Time To Listen? Download This FREE PDF: Brian Wong – "Cool Leadership Quotes"
Recruiterbox is the easiest, fastest, and most efficient way to receive and manage job applications to your company. Check it out at recruiterbox.com – they have a completely free trial.
Podcast Summary:
Brian Wong was one of the youngest company leaders to ever receive funding from a venture capital firm. While that in and of itself is quite the achievement, he has also done the even more difficult task of growing and scaling the company to almost 90 people and $10-12 million in annual revenue. He shares his insights about:
Where he got the idea for Kiip.
Why he enjoys management.
How he uses his youth to his advantage as a young CEO.
His favorite "management moments."
What he thinks the job of Founding CEO actually is.
Why he thinks it's so important to finish what you started.
What he learned about building an executive team.
Name: Brian Wong, Co-Founder and CEO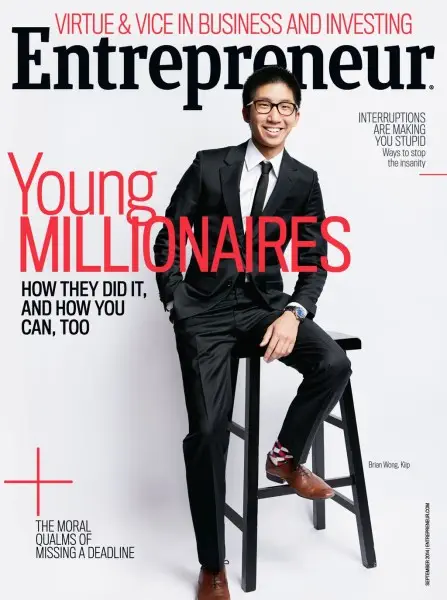 Brian Wong on the cover of "Entrepreneur" Magazine
Company: Kiip
Powerful Promise of Value: Kiip redefines how brands connect with consumers through a rewards platform that targets "achievement moments" in mobile games and apps. This innovative approach to mobile marketing creates meaningful engagements between users, developers and advertisers.
Headquartered In: San Francisco, California
Brian's Awards & Recognitions:
One of Canada's "Top 20 Under 20"
Business Insider's "Top 25 Under 25 in Silicon Valley,"  "30 Under 30 in Advertising" and "18 Most Important People in Mobile Advertising"
Forbes' "30 under 30" for three years
Mashable's "Top 5 Entrepreneurs to Watch"
iMedia "25"
AdAge "Creativity Top 50"
Leadership Struggle:  "…I've had a terrible track record higher C-level executives…our first COO left within two months and our first CRO left within seven days…"
His Book: http://thecheatcodebook.com
Contacts: www.kiip.com, [email protected]