Podcast: Play in new window | Download
Subscribe: RSS
Podcast Summary:
Since I was a kid I really enjoyed being organized. Maybe I was a bit unusual. I organized my closet once a quarter. My desk had everything in its place. Even the books on my shelves were categorized by topic.  So, when I interviewed Kip Tindell, Co-founder and now former CEO of The Container Store, he said something that really resonated with me. He said, "Life is better if you are organized." I couldn't agree more.
Kip's enthusiasm for life is infectious. And, his leadership principles are inspirational. You may be hard pressed to find many people who put the words "love" and "business" in the same sentence. But, Kip does just that in this interview and shares so much more about his personal journey from Co-founder of a small retail store to CEO of a business with 6,000 employees and more than 80 stores across the United States.
We recorded this interview in August of 2016 a few months after he stepped down as CEO. He served in this role for many years.  We talked about a very challenging time during the fast-growth stages of his company and what he did to overcome it. And, we also talked about his decision to step down as CEO.
If want to hear what successful entrepreneurial leadership through hard work and humility sounds like, give a listen to this interview with Kip Tindell. My bet is you'll feel uplifted just like I felt while I interviewed him. Let me know what you think: [email protected].
Name: Kip Tindell, Co-founder & former CEO
Company: The Container Store
Headquartered In: Coppell, Texas
Powerful Promise of Value: The Container Store is the iconic retailer that specializes in helping you with storage & organization solutions for your home and business.
Kip's Book: You won't be disappointed reading Kip's book. It's filled with leadership wisdom, growth techniques, and scaling advice. Buy HERE.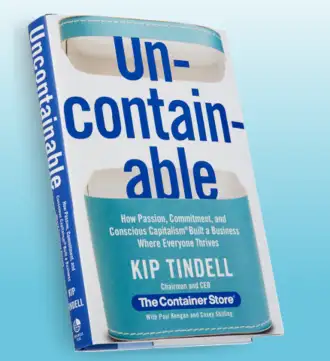 Contacts: www.containerstore.com, www.whatwestandfor.com, @ContainerStore (Twitter), @TheContainerStore (Instagram)
Sponsored by: Khorus
Helping your team stay on track is much easier with Khorus. Founding CEOs use Khorus to drive performance, manage talent, and build a strong culture. And, I love the way it helps Founding CEOs better clarify big-picture priorities, align employees around those priorities, and drive predictable performance. Try out their demo…it's great!