Podcast: Play in new window | Download
Subscribe: RSS
Podcast Summary:
What's it like to found and scale the #1 cloud accounting software for small businesses and the self-employed? What's it like to work out of your parent's basement for three years while you grow your startup?  What's it like to wait ten years to accept venture capital money and conquer your fear of doing so?  What's it like to lead a growing company of over 250 team members?
Listen to Mike McDerment, the Founder & CEO of FreshBooks, in this revealing and candid interview as he answers all the above questions and more.
I was particularly impressed with his story about how greater self-awareness has been the key to his ability to scale himself as a CEO. My favorite quote: "I've got to slow down and actually be present in a way that is probably not natural to me."
Let me know what you think. [email protected]
Name: Mike McDerment, Founder & CEO
Company: FreshBooks
Headquartered In: Toronto, Canada
Powerful Promise of Value: 
Freshbooks is the most ridiculously easy to use accounting software ever built.
And, the all-new, redesigned FreshBooks is now faster, easier to use, and friendly than ever before. With the new FreshBooks, you have new features that are faster than ever before. FreshBooks is building an ecosystem of partner integrations as well, such as with Google, GoDaddy, and Apple so you can work faster, and maximize your productivity and client relationships.
FreshBooks just launched it's integration with G Suite (formerly Google Apps For Work), that was built for business owners who work and collaborate in teams or on their own, helping them do more with their time and staying organized on the go.
Mike McDerment On The Cover Of Entrepreneur Magazine: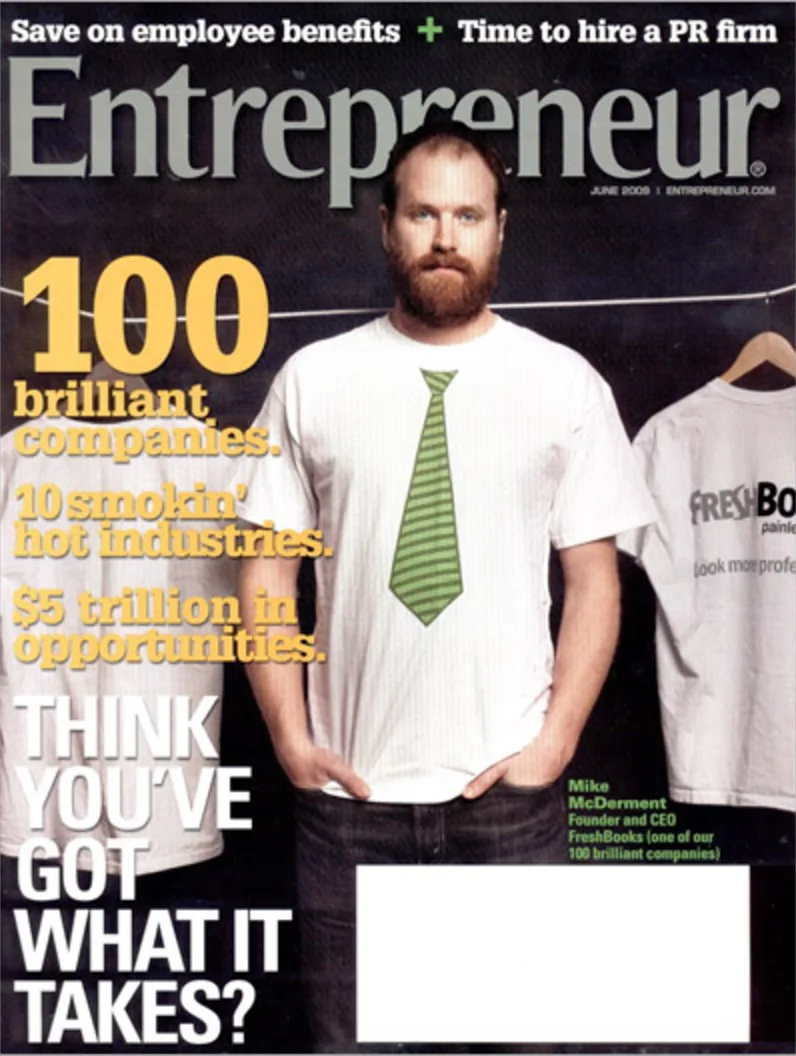 The Open Letter I Referred To In Interview: An Open Letter From FreshBooks Founder Mike McDerment – July 23, 2014
Contacts: www.freshbooks.com, @FreshBooks (Twitter), @MikeMcDerment (Twitter), mike at freshbooks dot com (Email)
Do you need quality design work, fast? When you are growing your startup, you and your team will eventually need designs for logos, business cards, t-shirts, banners, social posts, etc. I personally recommend DesignCrowd the next time you need some design work. We used this amazing crowdsourcing platform to help us design our logo for "Trail Team 10." Not only was it easy, but it was a great experience collaborating with creative designers around the world. We received over 100 quality designs to choose from. Check it out and let me know what you think.