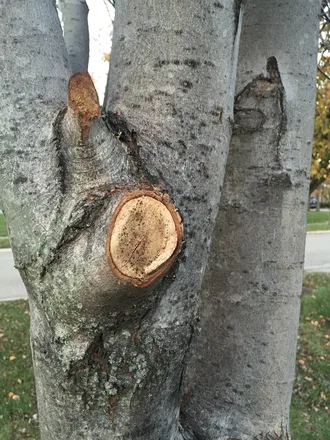 I came home one day this autumn to find that almost all the trees in my yard were trimmed. At first I did a double take. I knew something looked different, but I wasn't quite sure. I walked up to the maple tree near the road and sure enough…it had been trimmed. In fact, it had been trimmed quite nicely.
Trees in my background were similarly shaped.
What's the catch? Neither I nor anyone in my family hired anyone for this service.
Despite tree trimming taking up a prominent spot on my to-do list, I am ashamed to admit that my reaction was anger. Who did this without my permission? Why would anyone trespass and cut our trees? Why did they cut that tree that way? All of these negative questions began to flood my mind.
I spoke with my neighbor who said she saw a lawn care company truck in our driveway. I called the company she thought she saw. They had no knowledge of our mysterious tree trimming. I fumed some more.
During this time period I was interviewing Founding CEO, Joseph Kopser, for the "From Founder To CEO" podcast.  He was such an inspirational person to speak with. He is a former Army officer like me, so I paid extra special attention to his leadership story.
Joseph's friend connected us and sent me the below email.
"I know you'll appreciate that Joseph is a visionary tech founder/CEO, but he's a leader of people first.  His team would walk through fire for him. I attended a party at RideScout's HQ a couple of days after they announced they were being acquired by Daimler.  He [Joseph] reached out to two of his very first employees – who were no longer with the company – to let them know that they were going to be getting a big payday. Those former employees flew in for the party, which made it pretty awesome."
I thought a lot about this email after settling down from the tree trimming incident. It occurred to me that Joseph had demonstrated significant gratitude with his actions, not just his words. He branched out with his gratitude and I had "trimmed" mine.
Suddenly I felt pretty ashamed of my reaction to the tree trimming event. Instead of being grateful for this gift that was even on my to-do list, I responded with anger and investigation.
During this 2015 Thanksgiving holiday in the USA, I resolve to be more grateful.
As CEOs, we have so much to be grateful for. Would your team "walk through fire" for you? Do you express gratitude to the degree Joseph did? This week…well every month…let's resolve to express our personal gratitude to the people on our team. They help keep our visions alive.
And, to whomever trimmed the trees in my yard, thank you…please send me an invoice. 🙂
Happy Thanksgiving.