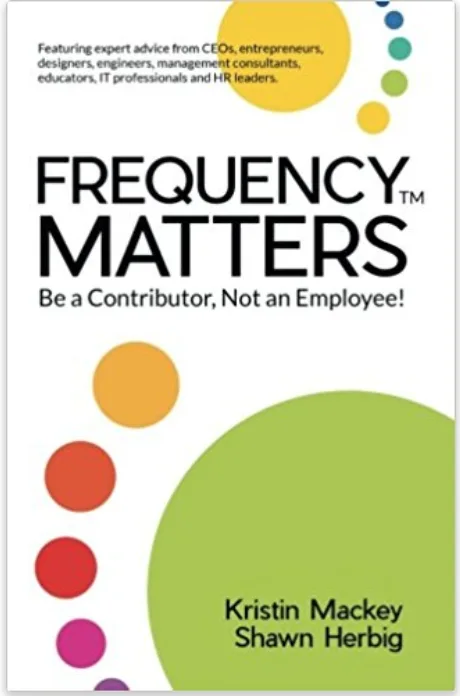 SPECIAL NOTE: This blog post comes from a friend of mine – Shawn Herbig – who owns a research and data analytics company called IQS Research.  He recently co-authored a book called Frequency Matters: Be a Contributor, Not an Employee!  that is about building high performing company cultures.  Currently the book has 4.8 stars on Amazon.  Many of you tell me that proactively developing your company culture is hard work. Shawn's thoughts on this subject can help make that job a bit easier.  -Todd
************
By: Shawn Herbig, Founder and President, IQS Research
Let me start saying thanks for the opportunity to share some of the insights from Frequency Matters with you.  This book was a labor of love and includes insights from over twenty voices about the philosophies and processes they used to build great cultures.
I wrote this book together with my amazing co-author, Kristin Mackey. She is an inspirational person with a long history of professional speaking.  Audiences just love her and she is a joy to work with.
When Kristin and I started working on this book we wanted to tell the story of how successful companies build great cultures.  To do that we spent a lot of time trying to understand what a successful culture really was.  We needed to identify what we were actually trying to get people to talk about.
We homed in on two critical elements and those were personal energy and employee engagement.  We believed that if a leader's personal energy (their passion, convictions, vibe, and mojo) was authentic and transparent then the process of creating an engaged team would be easier.  That definitely turned out to be true.
One of the first people interviewed for the book was Scott Baker, Head Coach of the Men's Soccer program, Rowan University.  He shared his concept of Mental and Physical Separation (MAPS).
The mental always comes before the physical and they are always looking for ways to improve from the inside out.  While they don't compare themselves to other programs they do take pride in distinguishing themselves in how they train and prepare.
This hard work translates into standards of excellence which then become habits.
Every season Scott challenges his athletes to be the best not by competing with other teams but by trying to become the best versions of themselves.
But you can't just ask people to distinguish themselves.  They have to commit!
When a person commits to an organization it means their hearts and minds are into their jobs.  They are giving discretionary effort and they are in it to stay.
At the same time, it's important to recognize that different people can only commit to certain types of organizations.  Not every culture is a fit for every person and it's important to be honest about that.
Engagement and commitment require more than just being technically proficient.  Being good at a job is important, yes, but to be fully connected you must also be wired in a way that resonates with the rest of the company.
My two favorite examples of aligned company cultures come from Paperstreet Web Design and Charah.  These companies are both hugely successful in their own areas.  Paperstreet designs award winning websites for lawyers while Charah is an ash management company who works for coal-burning utilities.
Paperstreet's philosophy emphasizes a very authentic work/life balance.  To help accomplish this the company is built around a 35 hour workweek.  Let that sink in for a minute…Paperstreet preaches and practices having their employees only work 35 hours a week.
While they sometimes need to work forty or more hours that's not the goal.  However, they are still a business and need to make money so when Paperstreet employees are at work they are 100% working.  They structure the workday so there is little time wasted with inefficient meetings or other time killers.
When they come together the purpose is either to work or to have fun.  By deliberately creating "cool meetings", fun events, and a fun environment people are less likely to feel burned-out.  Then they can focus on the business at hand such as meeting goals and thrilling clients.
In stark contrast to Paperstreet is Charah.  This fast growth company grew revenues from $10 million to over $250 million in just a few short years and they continue to grow today.  Charah has a completely different philosophy where working 60 or more hours per week is normal for managers.
One Charah story goes "There were many times something would go wrong at a client site and I would put the management team on a plane so we could meet with the client that day."  Missed meals, last minute travel, and constant pressure are the norm, but so are great success, ongoing growth, and new opportunities.  Charah works to attract driven individuals who thrive in an environment where they are given opportunities to step up and perform.   In return Charah offers endless opportunities, empowerment, and places to make your mark.
The cultures of the two companies couldn't be more different.  However, each culture is successful because it is authentic, transparent and fully aligned. It is that internal alignment that helps each company to be successful.
Interestingly, the process to create those cultures is remarkably similar between the two companies.
Know who you are as a leader and align your company culture accordingly
Hire people who are wired to fit that culture
Sincerely listen to your people
Offer worthwhile projects
Reward hard work
Just win
The book has dozens of additional lessons gathered from diverse leaders each with their own unique way of doing things.
In the end, the markers that make your culture authentic, genuine, and profitable have to be uniquely yours.  But once you identify those markers the process to infuse them throughout your organization is largely already developed.
To help you develop your culture we are going to make five copies of the book available to Todd's readers.  If you'd like a copy just send an email letting my team know where to send the book.  This is only available to the first five respondents.
Thanks for reading and I'd love to hear your comments below.  In the meantime, I'll leave you with this question:
What are the markers that make your culture great and what are you doing today to distinguish your culture from the competition?
Feel free to email me and share your thoughts. [email protected]