Podcast: Play in new window | Download
Subscribe: RSS
Podcast Summary:
Marc's new (relatively) book, "It Will Never Work" is a really wonderful book. I like it because Marc seems to be very honest about himself, Reed Hastings, and the birth and growth of Netflix. I'm not surprised since "radical honesty" is a hallmark of the culture at Netflix.
Marc was very revealing in this interview. He answers these questions:
Why did he write and published his book so many years after he left Netflix?
Why was his family such a big part of his startup success?
Where did the title of his book come from?
What happened when Marc shared his book with Reed Hastings (Co-Founder and Current CEO) before it was published?
What does he mean by "radical honesty?"
What were Marc's strengths and weaknesses as a Co-Founder and leader and what were and are Reed Hastings strengths and weaknesses as a Co-Founder and leader?
What REALLY happened when Reed Hastings told Marc that he does not think Marc can lead the company by himself any more?
What is his advice to Founders who are told they are not a good fit leading the company they started?
How can fast-growth Founders stay close to the customer when they are so busy?
What does Marc think about the recent emergence of HBO Max as a competitor to Netflix?
Name: Marc Randolph

Company: Netflix
Headquartered In: Netflix is headquartered in Los Gatos, California
Marc's Book: That Will Never Work: The Birth of Netflix and the Amazing Life of an Idea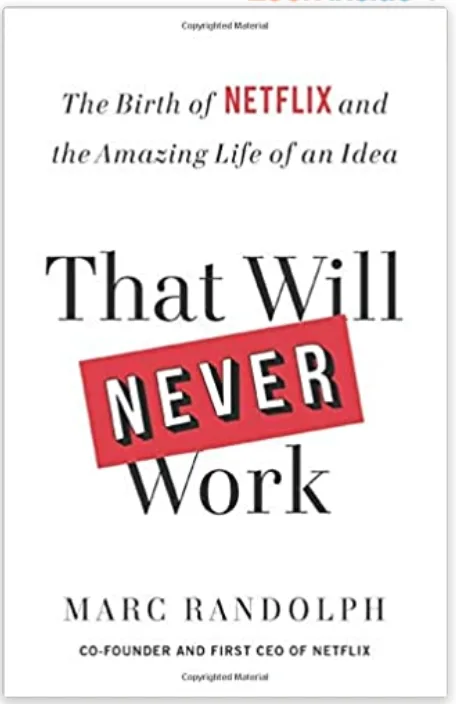 Powerful Promise of Value: Netflix lets you watch movies & TV shows online or stream right to your smart TV, game console, PC, Mac, mobile, tablet and more.

Contact: www.marcrandolph.com