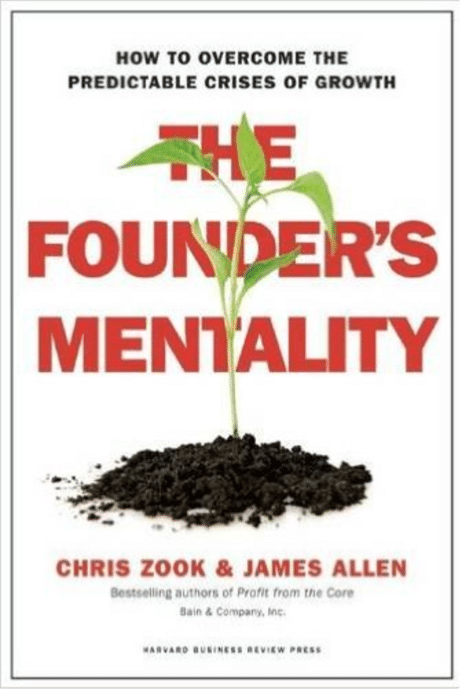 Let' face it, all of you have similar characteristics. There is a mentality that Founding CEOs have that is often a recipe for success.
Chris Zook and James Allen recognized this and wrote an insightful book about it. It's called "The Founder's Mentality." I like the book for many reasons.
The following ten quotes from their book strike me as key to keep growth rolling.
1 – "…the returns to shareholders in public companies where the founder is still involved are three times higher than in other companies." Page 4
2 – "…more than four in five problems on the outside of a business trace to problems on the inside." Page 63
3 – "Leaders in rapidly growing companies need to set aside enough time to ensure that everyone understands and feels connected to the purpose of the company, including involving them directly in shaping it." Page 85
4 – "Because the founding team is unsure how to professionalize, they are reluctant to give the experts direction." Page 90
5 – "…employees who feel engaged and empowered – who possess an owner's mindset, in other words – will volunteer solutions to problems and come up with innovative ideas 3.5 times as often as those who don't." Page 117
6 – "…the three elements of the owner's mindset – a bias to speed of decision and risk taking, a deeper sense of accountability, and a focus on cash flow." Page 151
7 – "Imagine the power of an organization in which leaders at every level embraced the founder's mentality." Page 153
8 – "Strategic change doesn't just start at the top. It starts with your calendar." Page 158
9 – "Great leaders leave no ambiguity about what is important." Page 159
10 – "Take the time to codify your key principles and use them as a compass to help chart your course." Page 163
Which quote speaks to you?