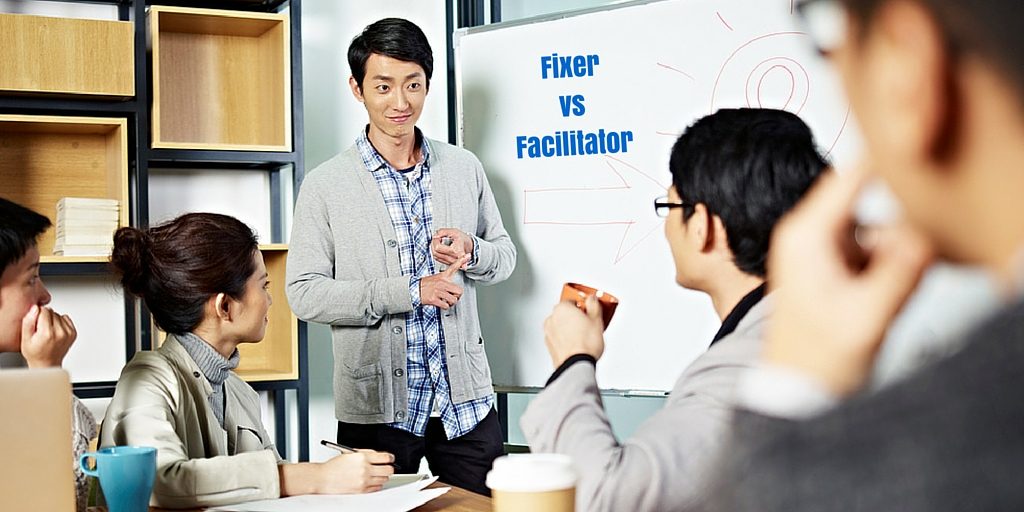 This was one of the top items on the post speaking engagement feedback sheet I received: "Don't be the fixer-be a facilitator."
I'm pretty certain that wasn't exactly what I said, but it was a succinct and spot-on summary.
I was recently invited to speak with a wonderful group of leaders at a company called Ferno-Washington, in the quiet town of Wilmington, Ohio. They design and build many of the life saving equipment that first responders use during emergency situations. They were a great group. [You can read about their amazing company history in the book, "Handle with Care: The Ferno Story – Shaping Emergency Care Around the World"]
Caitlin MacGregor, Co-founder & CEO of Plum, actually supplied me with this great point for this speaking engagement. She was my guest on the "From Founder To CEO" podcast, episode #091. She leads a game changing hiring assessment company that is having a huge impact on the calcified assessment industry. But, it was her story that moved me.
Caitlin struggled because she saw herself as the CEO Martyr. She was doing a lot by herself and it was having an adverse impact on her life. I've written about Caitlyn and being a CEO Martyr in a previous blog. But, sharing her story at Ferno-Washington led to a conversation about leaders who see their role as fixer versus those that see themselves as a facilitator.
The CEO fixer starts with the mindset that part of the job description is to be THE problem solver for your company's issues. In my experience, there are certain behaviors that stem from this mindset.
You may drive the conversations.
You may write the agendas.
You may assume all the responsibility.
You may kick start things with your diagnosis of the problem.
You may cut off healthy conversations about the issue or problem.
You may not listen to other ideas, opinions, or feedback.
You may make many more statements than you ask questions.
The CEO facilitator starts with a different mindset. They see themselves as guides that facilitate a process that engages others in co-owning the company issues and problems. In my experience, there are certain behaviors that stem from this mindset.
You may ask others to lead the conversation.
You may ask others to solicit input for the agenda.
You may share the responsibility for the problem with your direct reports or others in your company.
You may look for an opportunity for a direct report with a professional development need to assume responsibility for guiding the team's effort to solve a problem.
You may intentionally ask others to argue opposing viewpoints so as to solicit healthy conflicting viewpoints and perspectives.
You may take twice as much time soliciting ideas about what the actual problem is versus coming up with solutions to a quick problem diagnosis.
You may ask more questions than you make statements.
What intrigued the group was this question: How do we innovate when there is a rich company tradition and history? From my perspective, it starts with the leader's mindset.
At some point in your evolution From Founder To CEO, you no longer focus your energies on fixing things yourself, but you build that capacity in others. When you first start out on this mental shift, you may go through withdrawals if you have been the company "fixer" for quite some time. But, the rewards of sharing that responsibility far out number the challenges.
Have you struggled with this? What have you done?
Share your thoughts so others in our community can learn from your story.