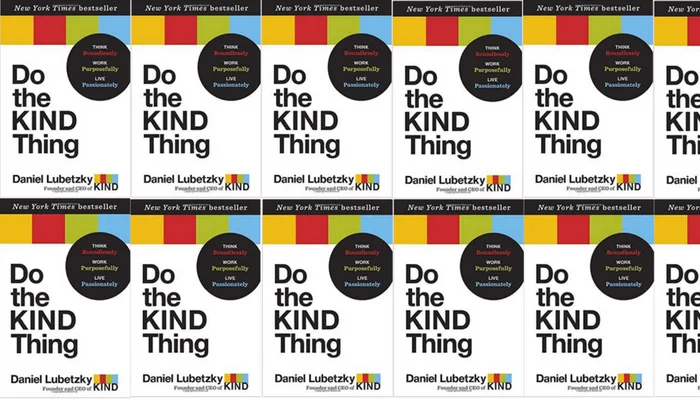 Regular readers of this blog will know that I like to read books. I truly believe leaders are readers. I suspect we Founders and Startup CEOs are part of a small tribe that love to read the stories of Founding CEOs and how they scaled themselves and their companies.
You won't be surprised that I really liked Daniel Lubetzky's book, "Do the KIND Thing." I haven't met Daniel (yet), but I was moved by the sincerity and authenticity of his voice and his message in this story of founding and growing Kind Healthy Snacks. Besides being a lover of his snack bars, his company mission is very inspiring to me.
I highlight favorite quotes with every book I read. Normally they are quotes that speak to me and I think might speak to you.
Here are my top 10 favorite quotes from "Do The Kind Thing."
1 – "A strong leader avoids becoming over-confident to the point of impaired judgment." Page 13
My Commentary: Keeping a level head is pretty important.
2 – "The mission does not sell the product; the product sells the product." Page 36
My Commentary: I love all the emerging social entrepreneurs and their #socent companies. However, I do think it's important to recognize that the product comes first.
3 – "I wish I could say it never crossed my mind to give up, but in the years before we launched our first KIND products, I did consider quitting and going back to a safe career in law." Page 66
My Commentary: Haven't we all?
4 – "The more a company succeeds and grows, the more a founder runs the risk of being perceived as infallible or intimidating, particularly by more junior or newer team members." Page 140
My Commentary: This requires intentionality to prevent this from happening.
5 – "I'm conscious of my role as KIND's founder and CEO and my responsibility to hold myself to the highest possible standard of ethics and human behavior." Page 223
My Commentary: If only more thought this way.
6 – "Whereas I was once the founder, leader, salesman, box-packer, delivery-man, and collections officer all at once, I now need to retrench myself and empower my team to lead." Page 236
My Commentary: One of the biggest lessons on your journey From Founder To CEO.
7 – "When things are going well, you run the danger of starting to think your success is inevitable." Page 252
My Commentary: Do you know the story of Icarus?
8 – "When you're the owner of an underfinanced start-up, every penny spent is a penny you feel coming out of your pocket. Resourcefulness is crucial." Page 254
My Commentary: Every penny should have a purpose.
9 – "Ownership carries with it a commitment to excellence." Page 258
My Commentary: Do you agree?
10 – "Treating investors with dignity also pays off." Page 260
My Commentary: Everyone should be treated with dignity. That includes your investors.
I highly recommend you read Daniel's book.
Do any of his quotes speak to you?
If so, why?